The porn from the Bang Bus is dirty, completely uncensored and definitely hot. It is easy to forget that these girls are willing participants. Bang Bus puts it clearly, it's a little bit like wrestling.
Summary rating from user's marks. You can set own marks for this article – just click on stars above and press "Accept".
Accept
BANG BUS REVIEW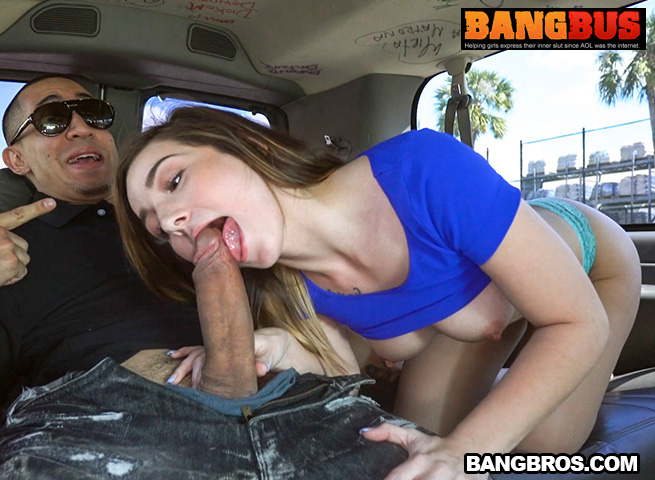 The wheels on the Bang Bus go up and down, up and down, as everyone on it is bangin'! If Bang Bus is good at anything, it's good at naughty, raunchy sex and decimating the innocence of America's youth. For the most part, the girls in these videos are treated like sluts or whores, and the banging seems a bit closer to hazing. There are over 500 photos and videos, released in episodes. Updates are weekly.
Pros of Bang Bus Membership
Aside from getting all of the amusing, exclusive episodes, the basic idea of Bang Bus is that it's super easy to get a girl to have sex you. Another bit of "Bang Bus wisdom" is that if you keep driving around in a van, after a while the girls will be dying to come in a get naked so you can bang them on camera. Guess what? The totally do. The secret of Bang Bros success is two guys with permanently raging boners, 1 nothing-too-special van, and an endless army of slutty girls whose parents didn't do a good enough job teaching them how to make guys unhappy. Every update brings a new episode and gallery. These two dudes are loud, all they want to do is have fun. And by fun, you know we mean sex.
Access to the Bang Bros Network
Access to Bang Bus comes with your Bang Bros network membership, meaning you get access to the entire network, not just Bang Bus. The recent updates are all high quality. They provide wide screen formats, (think 1280×720 and 1920×1080) and with bitrates between 3,000K and 4,600k you get a flawless streaming experience.
Videos are offered in three streaming variations: Small, medium and large. You can also choose between MP4 and various mobile formats when downloading. Each scene also has ZIPPED photosets to download.
The Cons of BangBus
There is no model index, probably because these girls aren't models. Just a bunch of dirty girls with low standards that these two guys happened to come across. There is a network-wide model index from Bang Bros, however there is no index specifically for this site.
Also, as with most other sites, the content from a few years back isn't as good in terms of quality. I have a hard time thinking of this as a con, however, because what was considered high quality then is considered average quality now. Seriously, what were we thinking back then?
All of the scenes come in HD varieties, however the bitrate can leave you buffering at higher qualities. The older videos definitely buffer less with a bitrate of 1600k and 640x480p. I'd definitely say that there are way too many advertisements in the member's only area. I feel like as a paying member, there shouldn't be a reason for me to be smothered in advertisements. That is, usually, why I pay for my porn in the first place.
My Verdict
Despite the fact that Bang Bus is not pleasant to browse, the site does offer some great content. The episodes are as entertaining as they are fap-worthy. Every thing on the site can be rated, each video, each picture, each clip. This makes it easy to see what other Bang Bus users have been enjoying. The site receives weekly updates and is a part of the the Bang Bros network, so you definitely get a lot more for your buck than just one website.