The Swallow for Cash site is a part of the Massive Access Network. If you have ever wanted to watch porn where a girl who needed some extra cash would give a man a blowjob, then this site is probably going to be one of your favorites.
Summary rating from user's marks. You can set own marks for this article – just click on stars above and press "Accept".
Accept
SWALLOW FOR CASH REVIEW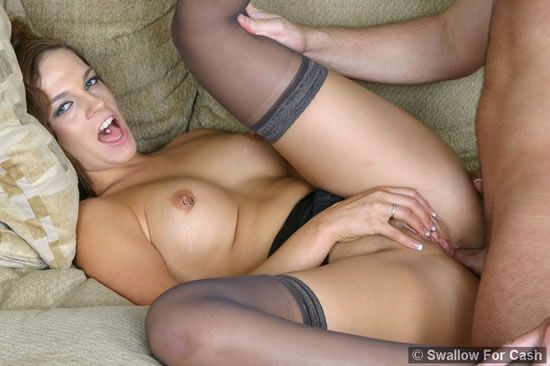 The site features some sexy scenes that have models showing you just how willing they are to open their mouths and spread their sexy legs for a little extra money. Unfortunately, the collection is small, but it is part of a large network. For more information about this site, and all the good and bad that come with a membership to it, keep on reading my real porn review!
Great Qualities Swallow for Cash
The Swallow for Cash site has many great qualities to it, and also two negatives, but let's go over those positives first! The first great quality of this site is the sexy hardcore collection within it. All of these scenes look like they could have come straight from a DVD, with how good they are. The girls that are featured in these scenes are all professionals that really do know just the right way to please a man. Basically, the scenes start off with showing you in detail why the woman needs money, and then before long, you will be able to see exactly what she is willing to do to get the money. Of course, every scene ends with a great cumshot, usually showing you her sexy smile dripping with cum.Another great aspect of this site is that they have HD scenes in their collection. There are MP4s that will play at 3000k, but only three of the scenes on the site are able to be played at 3000k. Members will be able to stream using the Flash Player and they will also be able to download videos as MP4s, WMVs, and iPhone MP4s. Also, members will have access to the entire Massive Access Network, which has 92 sites!
Bad Qualities Swallow for Cash
There are two negatives with the Swallow for Cash site, as I previously stated. One of the negatives is that the collection on the site is super small. There are only 25 scenes on this site. The next negative is that there are update issues.
Final Thoughts on Swallow for Cash
Even though the site Swallow for Cash might be small, there is still a lot to love. With all of the scenes that you will find with girls giving blowjobs for money and having sex for some extra dough, and a lot of the scenes being in HD, there really is not much to hate about this site. All in all, I would highly recommend that you try it out for a month.
Limited Subscription
2 Days of Premium Content
Stream all the content
*Total Spending $1.00
*Rebills at $29.95/mo
1 Month
30 Days of Premium Content
Stream all the content
*Total Spending $29.95
*Rebills at $29.95/mo